Japanese Academic Writing Support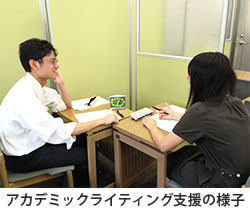 The International Center at Tokyo Metropolitan University provides a range of support in academic Japanese writing for non-native and native Japanese speaking students. This tutorial service is intended to help students prepare for academic Japanese writing assignments and become better writers. It is not meant to provide guidance on the specific content of the writing. Supporting Staffs are all Japanese graduate students at Tokyo Metropolitan University that have undergone training. The location is Room 231 on the second floor of the International House on the Minami-osawa Campus. Please make an appointment beforehand (see "How to make an appointment" below for details). You may receive same-day support without an appointment if there are no prior appointments during a given time slot.
Location
Room 231, International House 2F, Minami - Osawa
Session times
13:00-13:50
14:00-14:50
15:30-16:20
16:30-17:20
Clickhere for the schedule of open hours for this semester
Paper/writing we support
Class assignment
Thesis
Journal article
Research plan
Presentation script etc

written in Japanese
How to make an appointment
◎ By appointment booking webpage "Reserva."
Access the following website: https://reserva.be/tmuaws2017
Select your preferred date and time from the session slots shown.
Click 「予約を進める」and select 「連絡先を直接入力する」. *No registration needed.
Enter all necessary information, and click 「完了する」 to submit your "Appointment Request."
You will be informed by e-mail when your request has been confirmed. Please visit the room at the appointed time shown.
◎Walk-in session
Walk-in session is also available if there are no prior appointments on that day. Please come to the room 231 during open hours and make an appointment in person.
■■■Information regarding appointments■■■
【Session times】
13:00-13:50
14:00-14:50
15:30-16:20
16:30-17:20
Academic writing support sessions
Sessions are one-on-one. One session is 50 minutes, and as a general rule each student is limited to one session per day.
Advice on your Japanese writing (papers, reports, etc.) will be given orally in Japanese.
When visiting, please bring two copies of the writing (for you and your instructor) you wish to review.
You may not request a specific advisor.
Proofreading by a native Japanese speaker is available.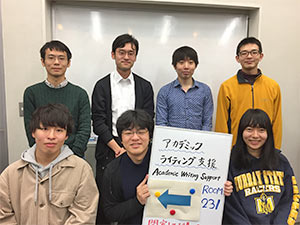 !Caution!
★If you are more than 10 minutes late for an appointment you have made, the session will be canceled.
!Caution!
★If you are unable to attend a session you have applied for, be absolutely sure to contact us.
TEL: 042-677-2030